It's no secret that sustainable fashion usually comes with a higher price tag than fast fashion items- when compared directly at surface-level, that is.
However, unlike most fast fashion brands, ethical fashion brands are dedicated to providing safe working conditions and paying fair wages to garment workers. They also use the most high-quality, innovative, and organic materials to produce pieces that are truly unique and long-lasting. Naturally, this is going to cost more than clothing made in exploitative work conditions with poor quality fabrics and finishes.
But while it's true that sustainable fashion can cost more than the fast fashion prices we've become accustomed to; the overall Cost Per Wear (CPW) makes sustainable fashion well worth the investment!
The Buyerarchy of Needs
You may have come across the Buyerarchy of Needs illustration below, created by Canadian artist Sarah Lazarovic. For anyone just beginning their sustainable fashion journey, this illustration depicts the ideal thought-process for determining whether or not you can use what you already have, and work your way through the steps before resorting to buying new. With overproduction and overconsumption still hugely problematic across all industries, particularly fashion, this can be a useful guide to remind us that the most sustainable clothes, are the ones that we already own.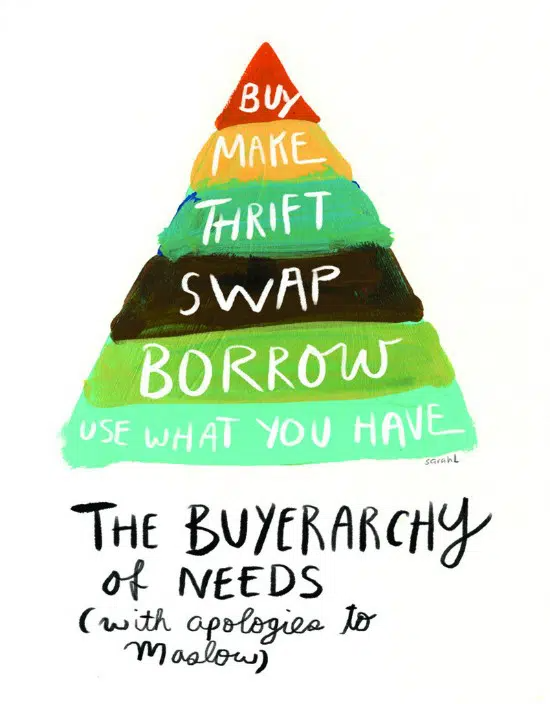 However, sometimes we do need to buy new, like when well-worn clothes wear-and-tear beyond repair, or if items no longer fit us. In an article by Dave Farber for Medium, Farber identified several reasons people still buy new, including:
Reduced hassle – not everyone has the time or option to shop secondhand.
Provide information – At Veo, we're transparent about manufacturing and materials.
Lower risk or increase access – as a platform we prioritise choice, quality and accessibility.
Promote wellness – our brands care about the wellbeing of people and planet.
Offer reward or recognition – it's good to support independent brands and businesses.
Provide opportunity to give back – many of our brands conduct initiatives that give back.
Create belonging or affiliation – become part of the growing sustainable shopping movement.
Supporting independent brands
At Veo, we work with small and independent brands committed to conducting business aligned with our 3 core pillars: KIND, HEALTHY and SUSTAINABLE. Ultimately, as a platform bringing together over 250+ unique and independent brands across Fashion, Beauty, Health & Wellness, Home, and Food, we know just how passionate our brands are about their craft, products and wider social purpose and impact.
For example, 1 Tree Cards plant a tree for every purchase, with the sale of every Ocean Bottle, 11.4kgs of plastic waste is collected, we offer footwear and bags made from recycled plastic bottles, and fashion brands that operate within a fully carbon-neutral supply chain. All of the brands we work with provide fair living wages and secure, decent working conditions, because sustainability also encompasses the ethics and wellbeing of people. Supporting local and independent business really does benefit everyone.
We thoroughly assess and vet all our products and brands, we do the research so you don't have to. That's why we're a Certified B Corp® – scoring in the top 5% globally – and we've been Ethical Consumer's most ethical online retailer for 3 years running. We've done the leg work for you. Now it's your turn to consider your own consumption habits. Ask yourself, 'what's more important to me when buying clothes, quality or quantity?'.
Quality > quantity
Quality over quantity couldn't ring truer when it comes to shopping sustainably.
Fast fashion has warped our perception of what it costs to manufacture clothing and in turn, what is deemed 'affordable' fashion. Whilst fast fashion is essential for some, many people claim that they're unable to make the switch to sustainable fashion due to it being too pricey. But what many also don't recognise is that they're trying to mirror the obscene overconsumption fast fashion prices enable. Sustainable fashion is deemed unaffordable, because many wish to maintain their levels of fast fashion consumption. But without addressing overconsumption, there cannot be real sustainability.
Fast fashion, even fast homeware now, tricks us into believing a false narrative of micro-trends, whereby the things we buy and love one week are, by design, already aesthetically 'outdated' by the next. With the terrifying rapidity of changing trends, it's never been more important to find your style. Through finding our own style, we can become more conscious about what we consume, how often we consume and where we choose to shop. Most importantly, we are able to use our spending power more wisely, by investing in quality pieces that represent who we are, and bring value into our lives beyond the copy-cat confinement of trend-led pieces.
"Fashion is transient, trends come and go. I believe in style, not fashion."

Ralph Lauren
What to do when buying new
Matching reduced consumption with better consumption, when an occasion to purchase new arrises, is the key to a sustainable future. True to our values, we don't believe that you should have to compromise on choice when it comes to sustainably, and we've already debunked the 'sustainable fashion is boring' myth!
The Cost Per Wear Calculator is a fantastic tool to understand just how much we're really getting for our money when buying a garment. Cost per wear is a term used in clothing to describe the cost of an item for every time it's worn. In other words, the more times an item is worn, the lower the cost per wear is going to be (Calculator Academy, 2022).
In premise, it looks a little something like this: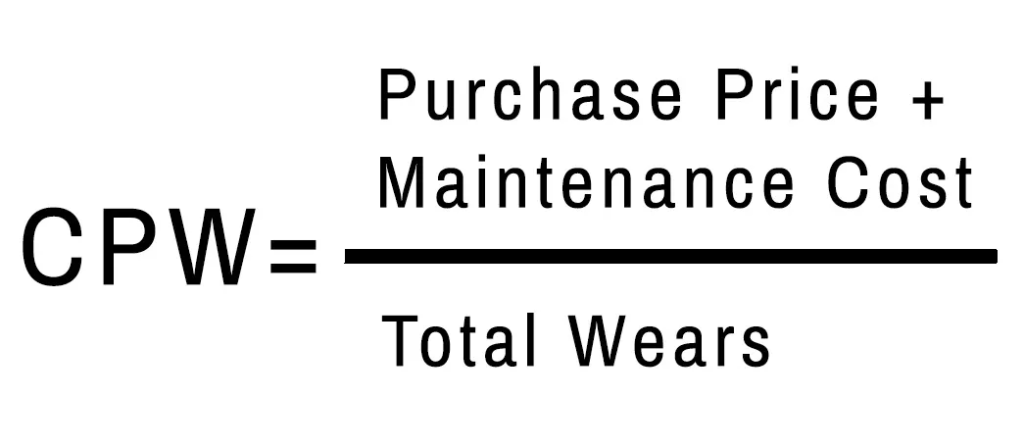 The average fast fashion piece is worn just 7 times before being discarded, whether due to it's poor manufacturing and material quality, or being deemed 'outdated' due to the trend-cycle. Which means that while it may cost £20 to buy a dress from the high street, the overall Cost Per Wear is often much higher than that of a sustainable fashion piece. An ethically made dress may require a higher upfront investment of £80, but with versatility and durability as the highest priority, this one dress can last through years of wear, making the overall CPW significantly lower in the long run.
CPW: Veo VS. fast fashion
To help you visualise how this works, we've pulled together a few examples that highlight the environmental credentials of shopping sustainably, but also shows how it can be the more economically viable option too.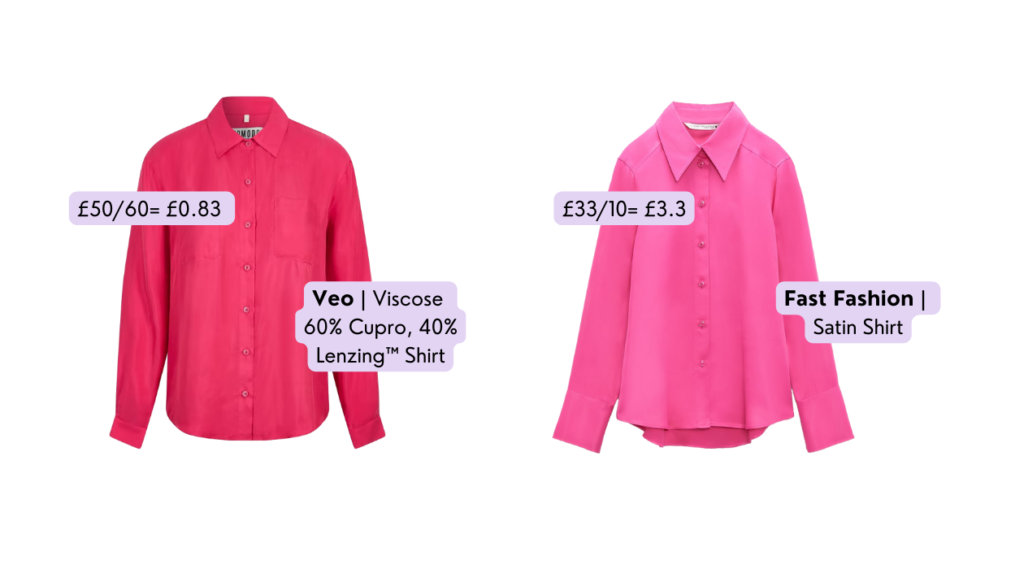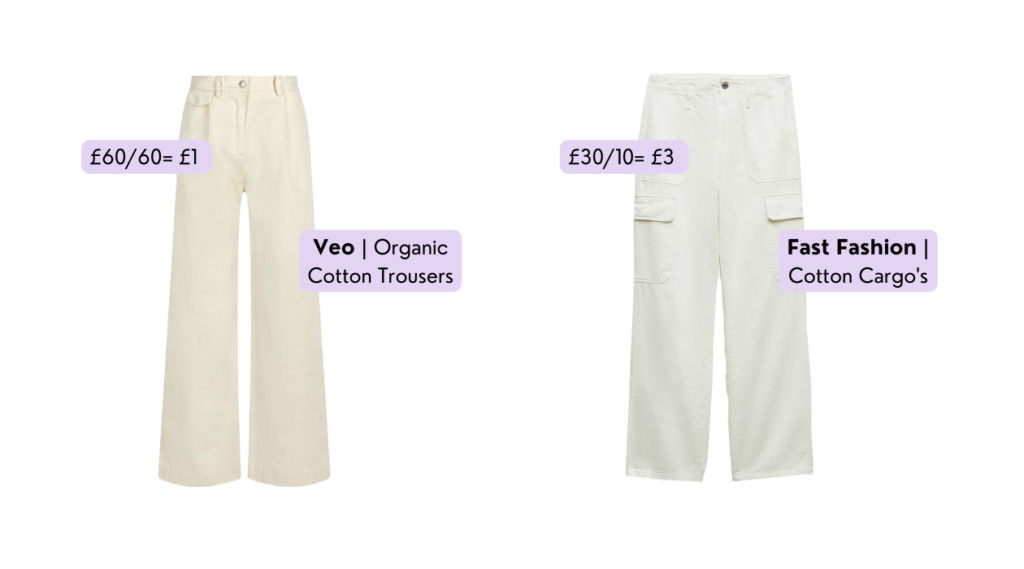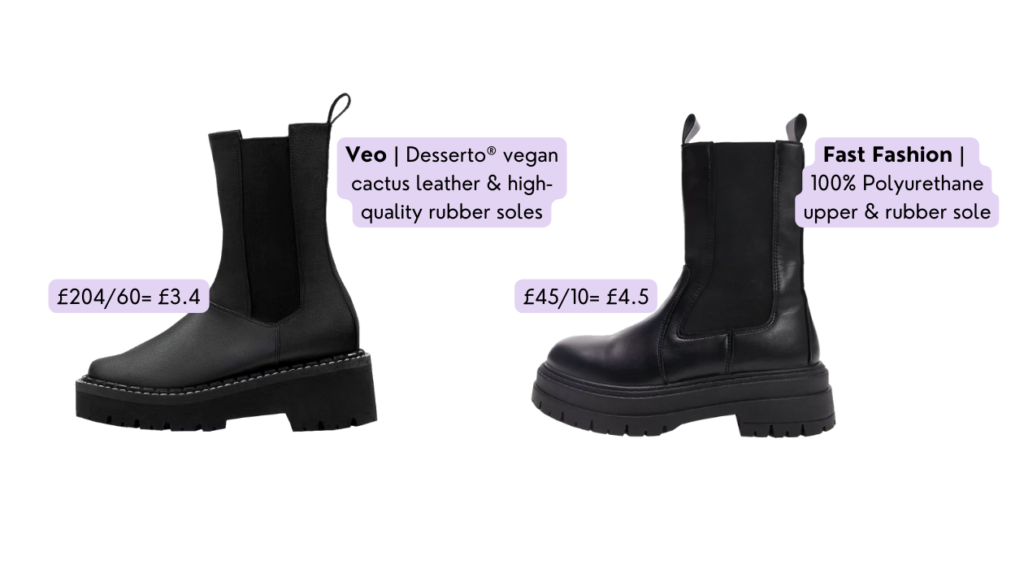 Sustainability is about progress, not perfection
It is not our place to judge. Nor is it our place to tell you how you should spend your money. We are here quite simply, to help educate, inspire and enable people to shop more sustainably.
Let's be real, we all want to do our bit for the planet. The looming threats of climate change are increasingly present in all our lives and to be quite frank, we simply can't afford to be compliant with inaction.
But when it comes to shopping more sustainably, it can be overwhelming to either know where to start or feeling like we're not doing enough. So, here's a few helpful reminders:
💚 Start small, think big.
💚 "Buy less, choose well, make it last" – Vivienne Westwood.
💚 Do your own research (The True Cost is a great documentary as a starting point).
💚 Demand better and accountability from businesses, brands, celebrities and world leaders.
💚 PROGRESS OVER PERFECTION
On a mission to make sustainable shopping easy, accessible and the norm, we adhere to important rules. This means no greenwashing, no fast fashion, and no products that are produced irresponsibly.
As a business, we strive to minimise our environmental impact and make it as easy as possible for you to access all your favourite and essential things, from independent brands who are addressing pressing environmental matters. We know we're not perfect and there's always room for improvement. But we are always in pursuit of progress, as we hope to inspire you, our community and beyond to also be.