We are living in a digital world
As a Manchester born-and-bred organisation, we are conscious of our cities industrial heritage and its roots grounded in technological innovation. The 18th century saw the emergence of the 'Industrial Revolution', the great age of steam, canals and factories that changed the face of the British economy forever. Manchester was the powerhouse at the heart of it all, becoming the first ever industrialised city in the world. From its towering mills, bustling warehouses and crowded streets came new ways to live, work and think, which transformed lives in Manchester and across the world.
Today, the human relationship with technology has never been more intertwined, as society operates and we indulge in modern technological essentials and luxuries. Just about every aspect of life in the UK is now owed to the marvel of technology.
Technology has given us better transport, healthcare, instantaneous connection across all corners of the globe. It's given us new communications, better housing, new forms of entertainment, new ways of working and careers that were not even fathomable just a few decades ago. It has transformed the way we consume food and goods. It has changed society in pretty much every way imaginable, for better and for worst. 'Worst you say?', allow us to explain.
Technology: a paradox between progress and problems
This dramatic increase in the use of fossil fuels, human activity and electronic commodity production, has not come without consequence. The Earth is generally regarded as having warmed about about 1° C (1.8° F) since the beginning of the Industrial Revolution, as a result of global greenhouse gas emissions.
Ironically the very technology that we have used to develop new and improved commodities and to shape society, is the very same reason that we are in the midst of a worsening climate crisis. Yet the irony continues. It is also technology that will be vital in undoing the impact of climate change, restoring and maintaining vital biodiversity on the planet and ensuring Earth is not only habitable, but thriving for future generations. This is the very essence of preservation that we mean when it comes to sustainability.
A break down of the e-waste crisis
Electronics are a modern essential. The tech and gadgets that we have access to connect us across society and enrich our lives. But this has come at a cost.
It's estimated that 57.4 Mt (Million Metric Tonnes) of e-waste was generated globally in 2021.
There is over 347 Mt of unrecycled e-waste on Earth as of 2022.
Only 17.4% of e-waste is known to be collected and properly recycled.
Not only is e-waste non-biodegradable, it also contains several scarce and valuable raw materials, most of which are currently not recaptured. Hence the need for technology, in order to develop closed-loop supply chains and increase recycling capabilities, continues to be vital.
On top of this, much of our electronic goods and accessories now come with plastic components. As a result, it's estimated that plastics constitute 20% of e-waste. Recycling plastic would not only take pressure off waste systems (in Europe, some 31% of plastic waste still enters landfills while 39% is incinerated), but every tonne recycled would also help avoid up to 3 tonnes of CO2 emissions created making new plastic.
Time for a re-think
Technology and electronics were birthed out of creative thinking, problem solving and innovation. These are the very same principles that industry and consumers alike need to channel, in order to progress at this most wasteful of times in human history. It's clear we need to re-think how we produce, protect and dispose of our electronics and gadgets. Not sure where to start? Don't worry, we're here to help!
The tech gadgets, tech accessories and electronics that we use in our day to day lives is a great place to start.
Gadgets that enhance your life and are kinder to Earth
In an article by TheRoundup.org, they identified that "smaller items add up to the largest share of global e-waste. So make simple choices such as buying an eco-friendly phone case instead of a plastic one, or choosing a sustainable electric toothbrush with recyclable heads".
On that note, we invite you now to discover a curated selection of some of the eco-friendly gadgets and electronic accessories we boast at Veo, from cactus leather tablet pouches and card e-readers, to biodegradable, plastic-free phone and AirPod cases, to a recycled Universal Charging Cable and more.
Watson & Wolfe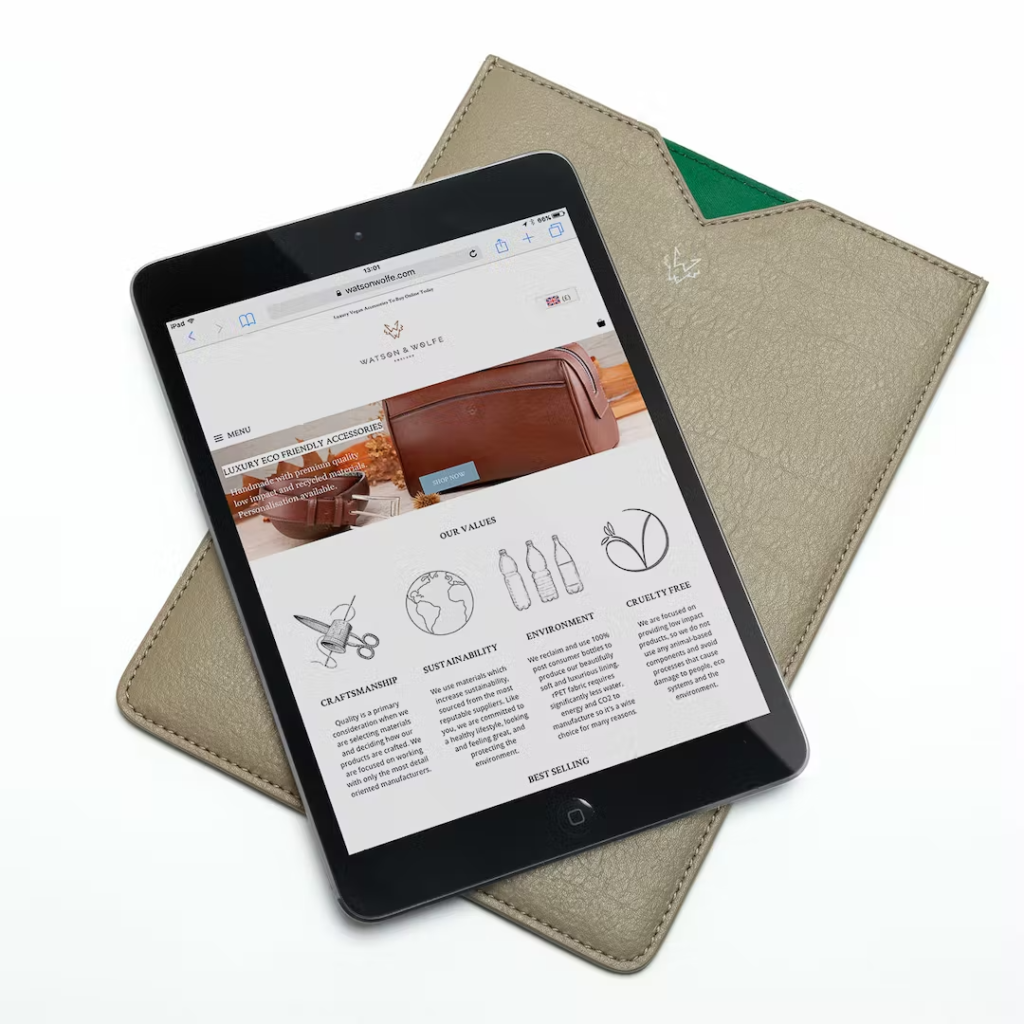 Watson & Wolfe, have over 20 years' experience in luxury accessories. Each item is handmade with premium quality, low-impact vegan materials and made in an ethical supply chain. Their range of wallets, purses, bags and travel accessories are designed and crafted to be timeless. Sourcing materials from suppliers who are as eco-conscious as they are, they limit the amount of waste they generate, and offset their carbon emissions by investing in reforesting projects.
The Cactus Leather Tablet Sleeves are a protective envelope for tablets and e-readers. The cactus leather is made from the Nopal Cactus in Mexico, requiring little water and zero pesticides to grow. The material offers high resistance to abrasion, rubbing and tearing and the lining is made from recycled plastic bottles, using 94% less water, 60% less energy and 32% less CO2 to make than virgin polyester.
Similarly, the Recycled PET Travel Pouch & E-Reader Case Travel Purse, with its petite, slimline shape, is perfect for carrying daily essentials wherever you may be and are ideal for carrying with you throughout your journey to work or for domestic and international travel. It features a central compartment for your smartphone and keys, a front pocket with magnetic closure, 8 card slots and is suitable for Kindle 2019, paper white (2018) and all Kobo e-readers (except Aura One).
Click to shop the full Watson & Wolfe collection.
Uunique London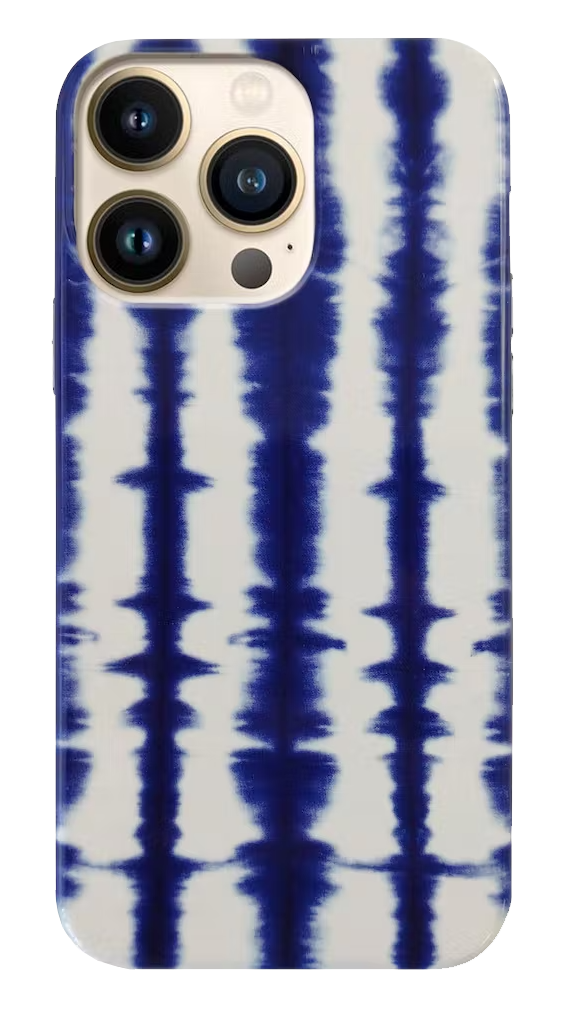 Uunique London are proud to be at the forefront of eco-innovation, providing plastic-free, 100% compostable case solutions. Their collections are completely natural and made from plants and plant elements. Both pure and protective, with designs available in a wide spectrum of colours and fashion prints, there is something to suit every taste.
That's right, every single one of the cases above is completely biodegradable and compostable!
Click to shop the full Uunique London collection.
Harmoni Living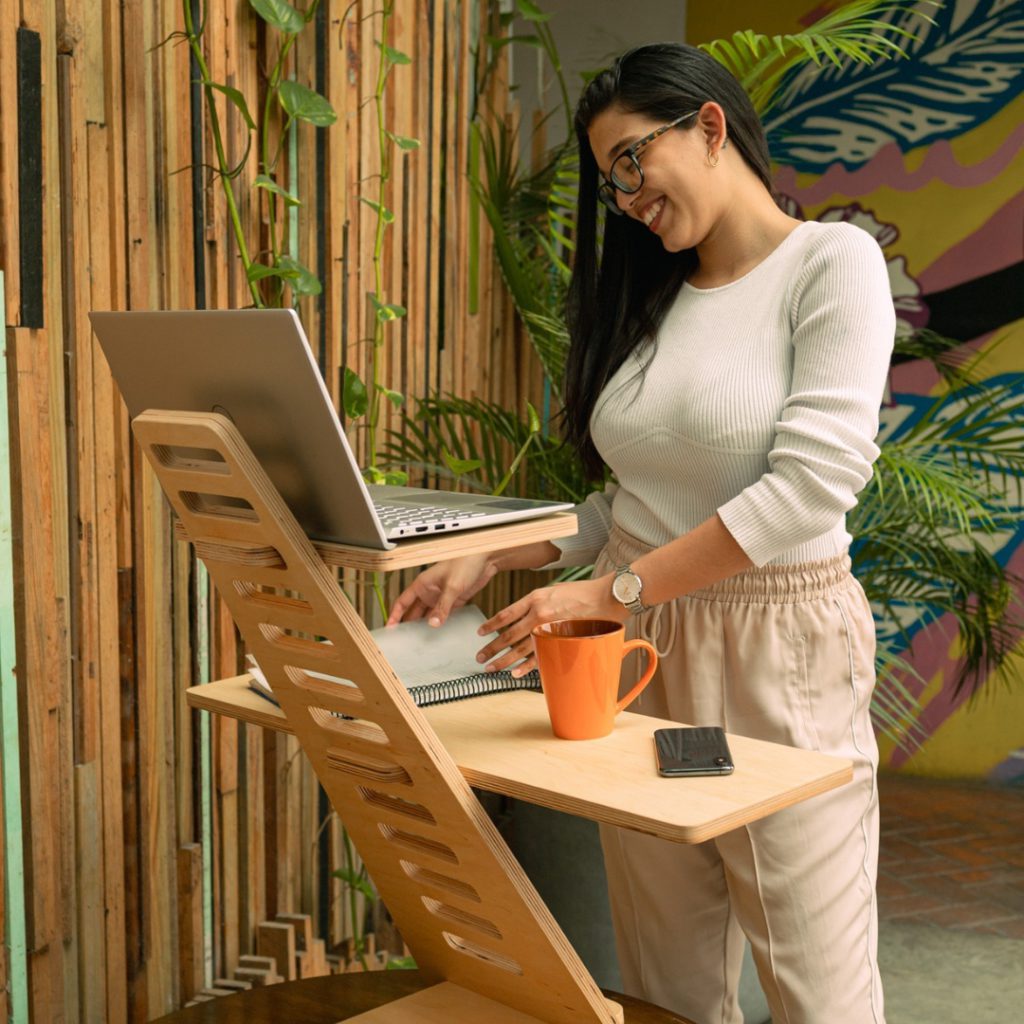 Tech has also changed the nature of how many of us work. With many people now in office-based jobs, those of us sat at a desk for hours on end can be at risk of issues from lower back pain and wrist strain to neck and shoulder aches. Yes, tech should make our lives easier. But it shouldn't make us inactive either.
So, Harmoni have set out to develop smarter, healthier, more flexible ways of working. Their most iconic creation, the multiway standing desk. Standing to work burns more calories, reduces blood sugar spikes, increases spinal alignment and boosts the supply of oxygen-rich blood cells reaching the brain and increases productivity by 46%. To top it all off, all of the wood they use is FSC Certified, and sustainably sourced from forests in Europe.
They also produce a variety of office accessories to optimise your work space, from an Eco-Friendly & Handmade Slim Wireless Wooden Phone Charger to a Sustainable Wood Laptop Dock.
Click to shop Harmoni Lifestyle products.
Eco-friendly chargers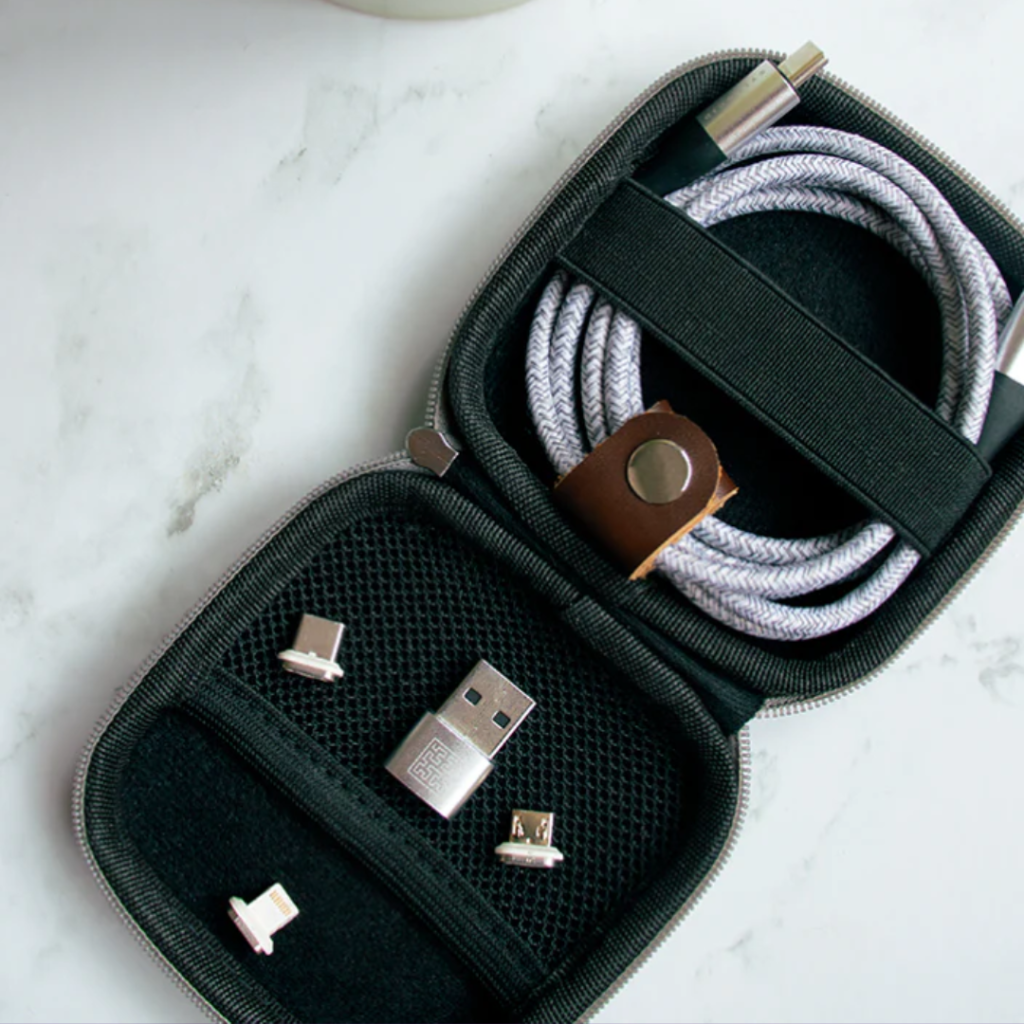 Built to last with eco-friendly raw materials of the finest quality, our sustainably sourced and recycled chargers are minimal, elegant, and fast-charging, offering the perfect combination of style and functionality!
The all-in-one Syllucid Charger is a sustainable universal charging cable for all your electronic devices. Its modular and magnetic design charges all Apple and Android devices, laptops, and micro USB accessories. It's designed to last and is the world's first USB cable to support Fairtrade Gold! The all-in-one package includes a USB C cable and all the adapters you need, with an organiser to protect and store your cable and adapters in one place. With Fairtrade, recycled, responsibly sourced materials and 5% of every purchase supporting the agroforestry project in the Peruvian Amazon, this USB cable really does it all.
Uunique Eco friendly power range is made of compostable and biodegradable materials. A perfect eco-friendly solution to power your devices. With 3 amps of power, the cable offers fast, convenient charging of compatible devices, and its transfer speed of up to 480 Mbps means speedy transfer of music, photos, and data to and from a laptop.
An eco-tech revolution
There's undoubtedly a fair way to go in the collective effort to resolve the ongoing e-waste crisis. But once again, there can be no true transformation without both industry action and changes in consumer behaviour. At Veo, we only work with brands who are aligned with our values of woking towards a kind, healthy and sustainable planet for all and e-waste can no longer be left out of this conversation! Tech solutions are emerging, it's time to meet them with action!
Click here to shop all eco-friendly electronics at Veo.