Benzoyl Peroxid, Dihydroxyacetone, Glycerin, Emollient – the list of ingredients contained in our skincare products is pretty scary.
They claim to work wonders on our skin and often come in beautiful packaging, with an expensive price tag.
But with slow-beauty on the rise, and an increasing number of women keen to incorporate a waste-free regime, foraging could be the next big sustainable trend.
So, what is foraging?
Foraging simply involves sourcing ingredients from the wild, usually for food, but in this instance it's for skincare.
There is an abundance of natural ingredients with skincare benefits in the woodlands, and you can combine them with other natural sources to create a new, organic treat for your face or body.
Natural ingredients grow by season, so you often can't forage the same stuff all year round.
To help you out, beauty experts reveal what items you can forage each season, where you can find them, and how you can use them to create a gorgeous new product for completely free.
Spring
Chickweed
Where: Chickweed is found in shady, moist locations including gardens and woodlands.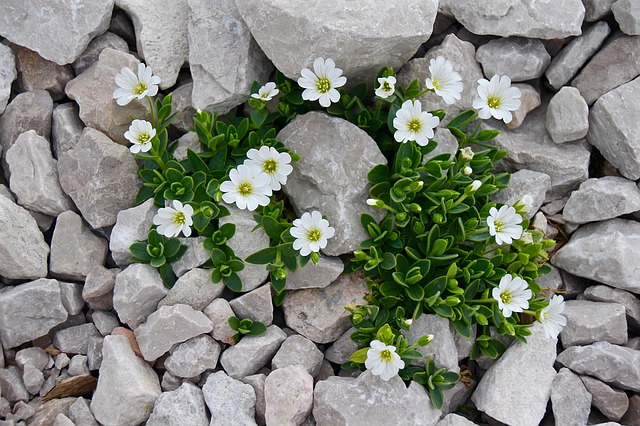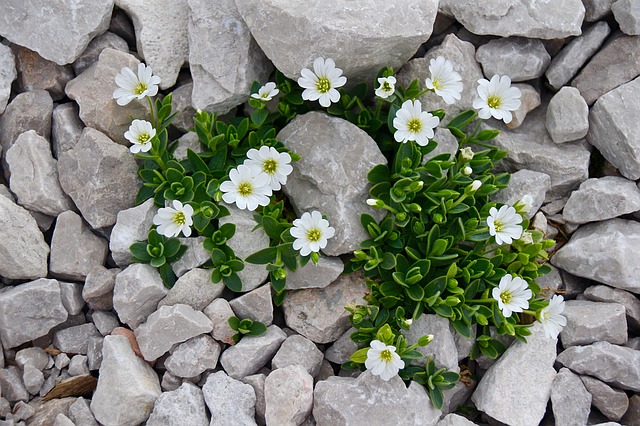 Benefits: Chickweed is commonly used to help treat a number of skin issues as it contains natural antiseptic, antifungal and anti-inflammatory properties. It's regularly used as a quick remedy for itchiness and skin irritation.
Dandelion
Where: Dandelions love moist, sunny areas, they only go dormant during cold winters and are easy to find.
Benefits: The sap derived from dandelions is naturally highly alkaline, meaning it's great for combating germs, bacteria and fungus.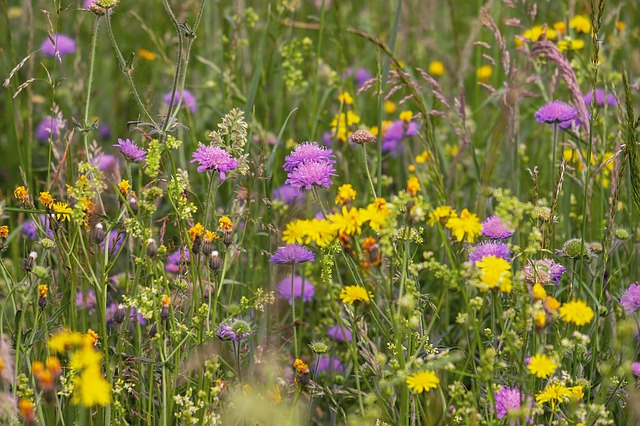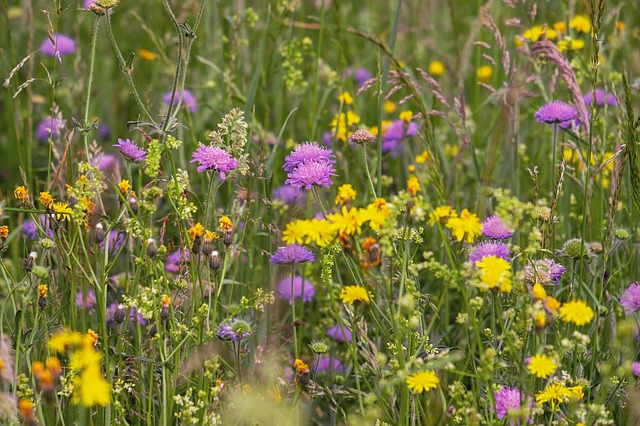 It's also thought the sap can be used to treat conditions like ring worm and eczema. Seen as a natural detoxifier, dandelion juice is often used to help treat acne naturally, with its increased vitamin C content helping to treat and sooth scars and inflammation.
Goose grass
Where: You can find it in turf, landscaped areas, like crop fields, orchards, and in gardens.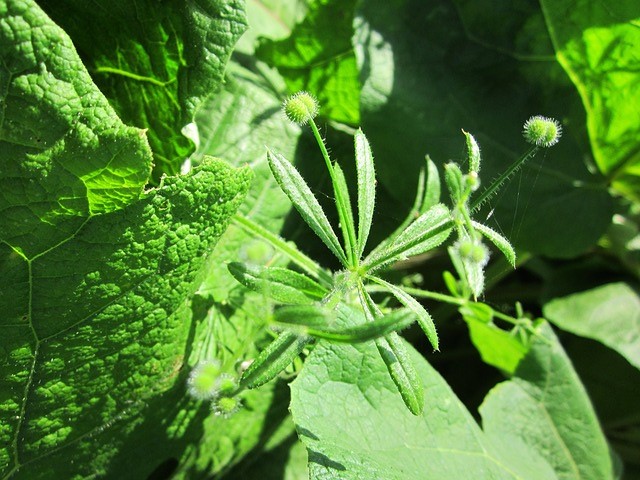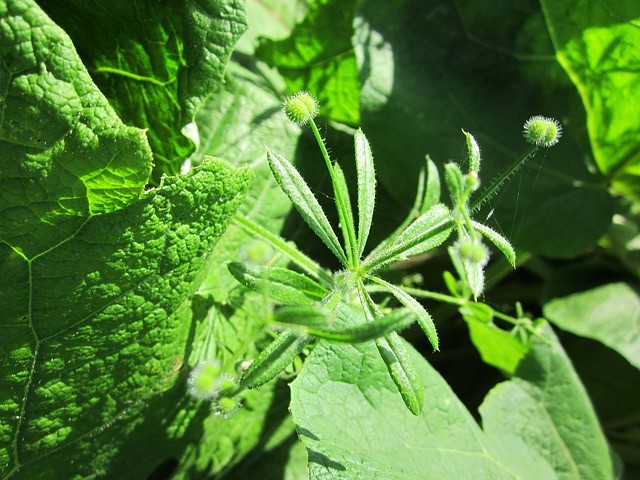 Benefits: In the past, goose grass has often been used to treat common skin issues such as psoriasis and eczema. It's also thought to help aid the healing of small cuts, scrapes and abrasions.
Wild Garlic

Where: You can usually find this near marshland or water drainage ditches in all parts of the country.Benefits: Wild garlic is rich in allicin, meaning it has lots of lovely antiviral, antifungal and antiseptic properties. It's used in a variety of products to cleanse the skin and treat acne, removing the bacteria that causes breakouts. Garlic also naturally contains large quantities of vitamins C which, amongst other things, is known to boost collagen and reduce to effects of UV exposure.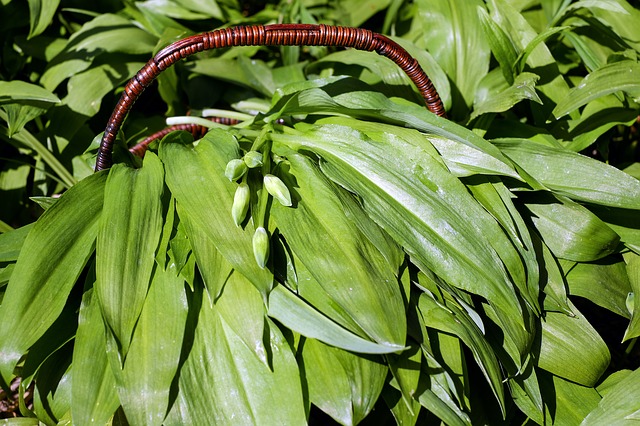 Recipe: Dandelion Face Serum
This Dandelion face serum is specially created for all skin types to brighten your complexion, tighten and firm skin. This magical flower has properties known for reducing age spots and scars, so perfect to be used as serum before you wear your daily or nightly moisturizer.
Ingredients
6 fresh dandelion flowers and leaves
Aloe vera leaf
1 teaspoon vitamin E
1. Firstly- wash the flowers and chop off the base of the stems to remove any dirt, leave to drain.
2. Slice the aloe vera leaf down the middle and scoop the gel to fill half a cup.
3. Whiz the dandelions and aloe vera gel together into a food processor (a Nutri bullet would be perfect)
4. Leave to sit for one hour.
5. Either using a cloth or a strainer squeeze the gel into a bowl. Carry on until all you have left is the dandelion leaves left in the strainer and all of your dandelion infused gel in a bowl.
6. Gently mix in the vitamin E
7. Pour into a pot or bottle, preferably made from dark glass to keep it preserved for longer.
8. Add to skin morning and night and use within 10 weeks.
Summer
Chanterelle mushrooms
Where: Growing in clusters, the mushrooms grow in mossy coniferous forests. They are also found in mountainous birch forests.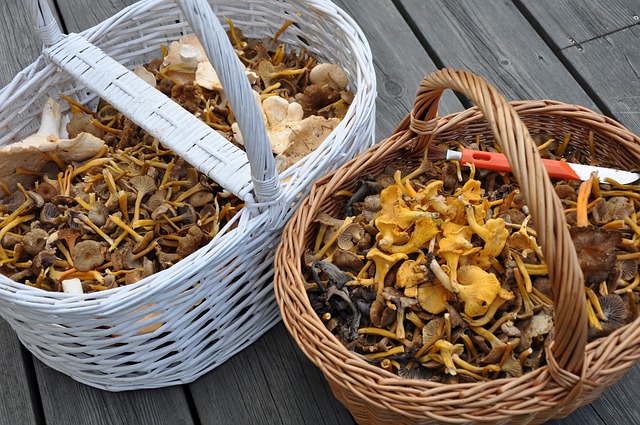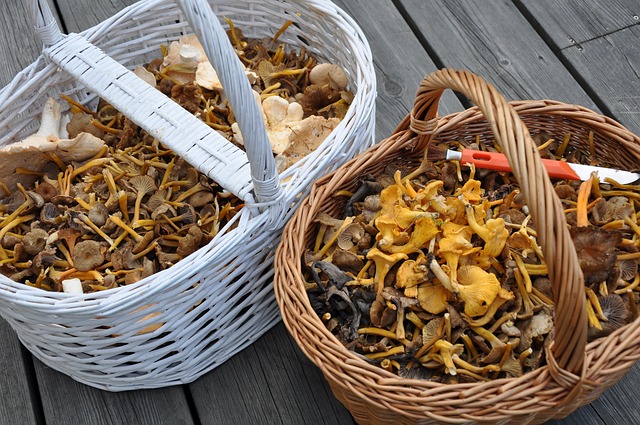 Benefits: Like many species of fungi, chanterelle mushrooms are packed with vitamin D which is what we get from natural sunlight. Rich in niacin, chanterelle mushrooms can also help address a number of skin conditions like eczema and rosacea, as it helps to reduce redness, inflammation and irritation.
Blackberries
Where: Blackberries are commonly found in brambles in most woodland areas.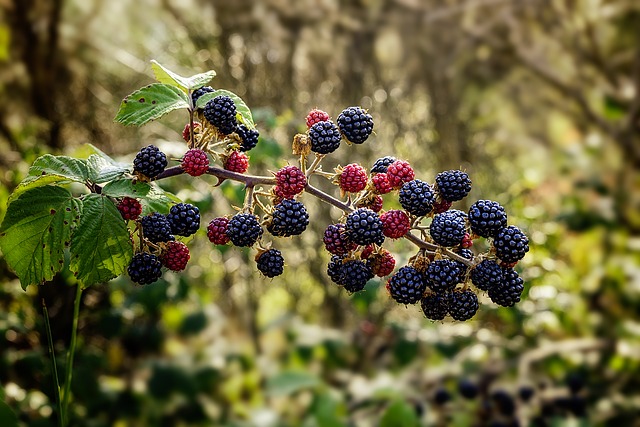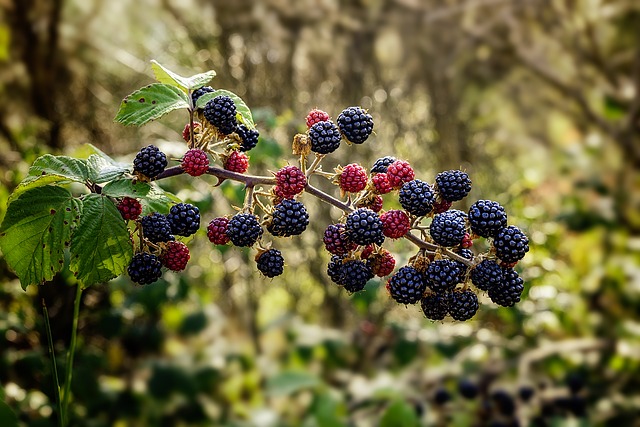 Benefits: Blackberries are rich in antioxidants, which help promote good circulation and a strong immune system. The small fruit often features in face masks because of its acne busting astringent properties. The high amount of vitamin C found in blackberries also helps to boost collagen production, and thus makes the skin appear more vibrant and healthy.
Hazelnuts
Where: Find these little gems in moist, lowland soil and under the shade of oak trees.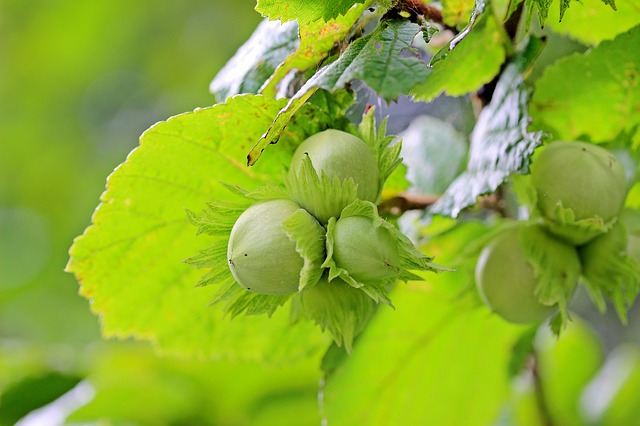 Benefits: Hazelnuts contain a high concentration of antioxidants, and as such are often applied directly to the skin. Naturally rich in fatty acids and vitamin E, hazelnut based products can help to both hydrate the skin, and preserve its elasticity. Plus they taste great if you want to add some protein to your diet, too!
Honeysuckle
Where: Honeysuckle grows close to home, and even on exteriors of buildings.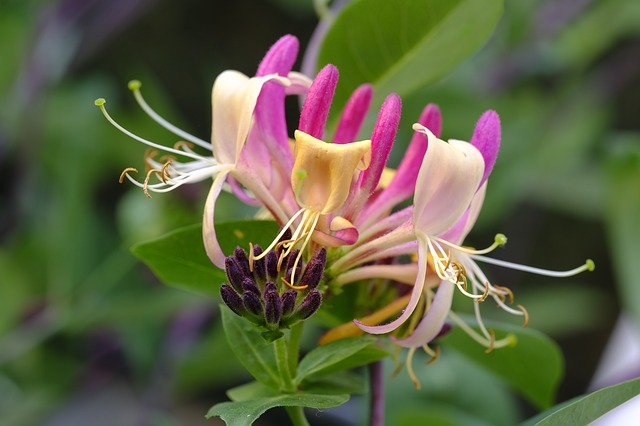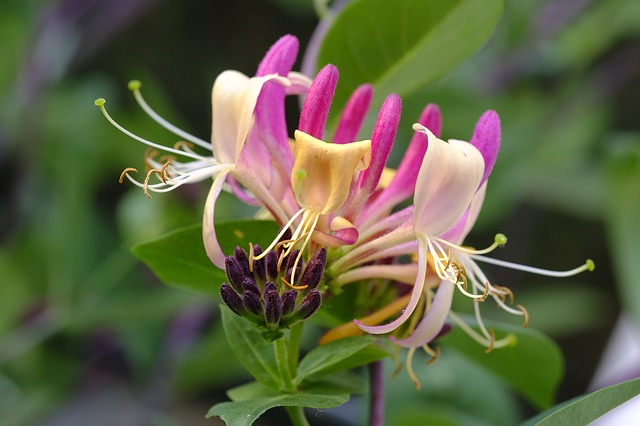 Benefits: Honeysuckle is commonly found in remedies for eczema, acne and rosacea. Oil distilled from the plant is also found in hair products as it can strengthen the roots and strands of hair. As an essential oil, honeysuckle is often used in aromatherapy, and is widely thought to help treat headaches, reduce sinus pressure build-up and relieve stress.
Recipe: Rose Face Spritz
This wonderfully refreshing recipe is ideally used as a face toner as well as a face spritz on hot days when you need a little cooling down.
Ingredients
7 Roses
1.5 litres of distilled water
1. Gently pull the petals from the roses and place the them into a colander, under a tap running luke warm water to remove any dirt.
2. When the petals appear to be clean, pop then in a pan of the distilled water. If 1.5 litres is not enough then add more to cover the petals.
3. Over a low to medium heat, bring the petals to a simmer for about 25 minutes until they have lost their colour and are now very pale pink.
4. Strain the mixture and separate the petals from the water. Don't throw the petals away- they can be enjoyed in a bath that evening!
5. Pour your now Rose water into a dark bottle and enjoy as a Rose water face spritz to cool you down through the summer!
Autumn
Plums
Where: Plums are often found in hedgerows in the wild.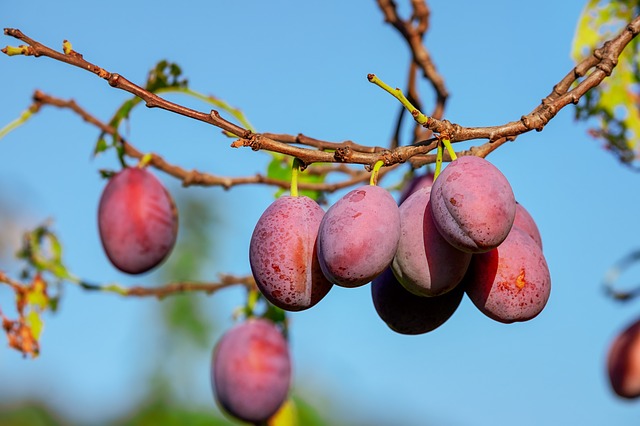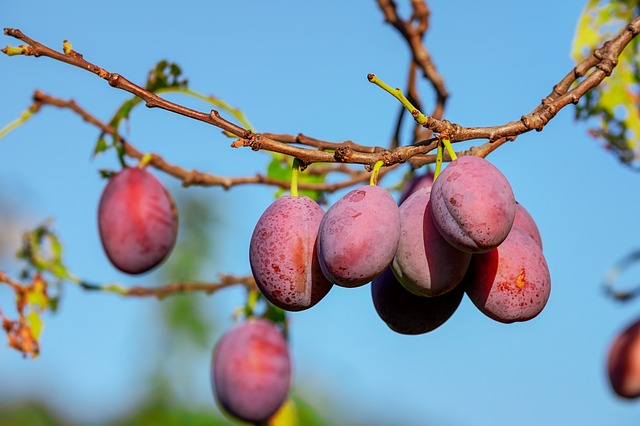 Benefits: Like many natural remedies, rosehips are known for their astringent properties, which means they help to tighten the skin and close the pores. They also contain lycopene and beta carotene (which is what we find in carrots), and can help to remedy hyperpigmentation, where the skin darkens in places due to sun exposure, medication or hormonal changes.
Hawthorn
Where: Hawthorn grows in hedgerows, woodland and scrub.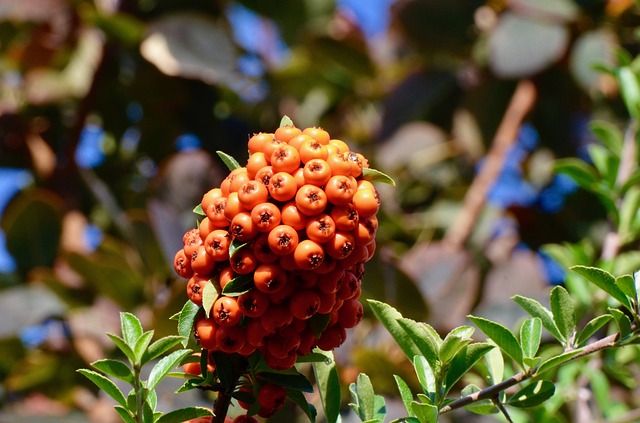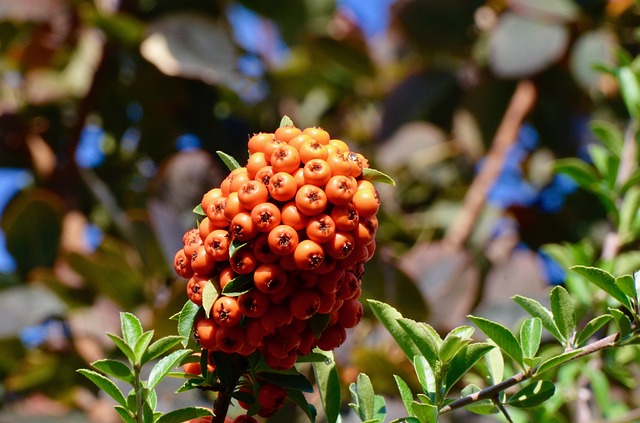 Benefits: Hawthorn berries are naturally rich in polyphenols, and are thought to boost the immune system and lower blood pressure. Cosmetically, hawthorn berries are found in a wide range of hair products as they're supposed to be amazing for helping stimulate fast hair growth.
Walnuts
Where: Search in the woodlands for walnuts, most commonly found in southern parts of England.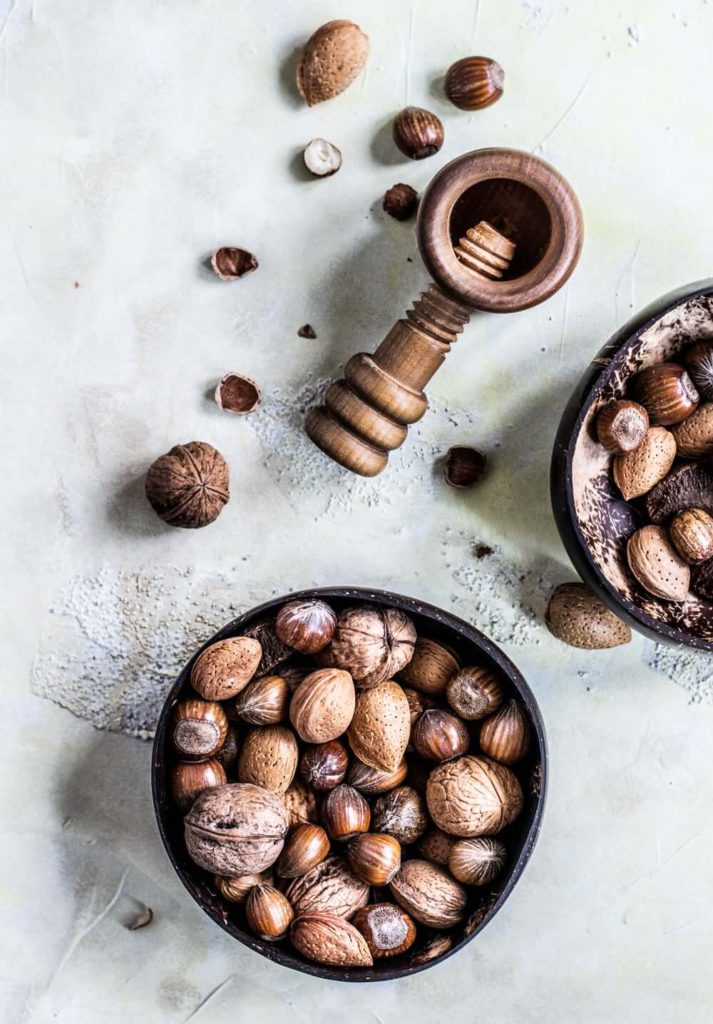 Benefits: Most benefits come from the shell and leaves, meaning they're an excellent zero-waste option for DIY beauty remedies. Research shows that the application walnut products can help to protect the skin from free radicals and they are a great exfoliant due to their rough texture.
Recipe: Walnut Body Scrub
This walnut body scrub is designed to increase blood circulation, remove dead skin cells, smooth and brighten your complexion.
Ingredients
12 walnuts
30g refined Shea butter
30g almond oil
5g of Vitamin E
5 drops of Rosehip oil
1. Firstly, take the shells off of the walnuts
2. Next, ground the walnuts into tiny particles. You can either do this in a pestle and mortar, by putting the nuts into a canvas bag and hitting it with a rolling pin or by using a blender. Leave to the side.
3. Place all of the shea butter with the almond oil into a heat proof bowl and place into a pan of water (just as you would to melt chocolate)
4. Turn the heat to a low temperature and watch until the shea butter melts down into the oil.
5. When the mixture is entirely melted, remove from heat and allow to set and go hard. You can pop it in the fridge to speed things up.
6. Grab a big wooden spoon and mix until the product turns fluffy.
7. You can now add in your crushed-up walnuts, Vitamin E and Rosehip oil.
8. Spoon into a dark glass pot to keep it fresh. Enjoy marvelously soft skin with your new walnut scrub!
Winter
Nettles
Where: Nettles love rich, moist soil, meaning you'll find them growing near rivers, streams, and lakes.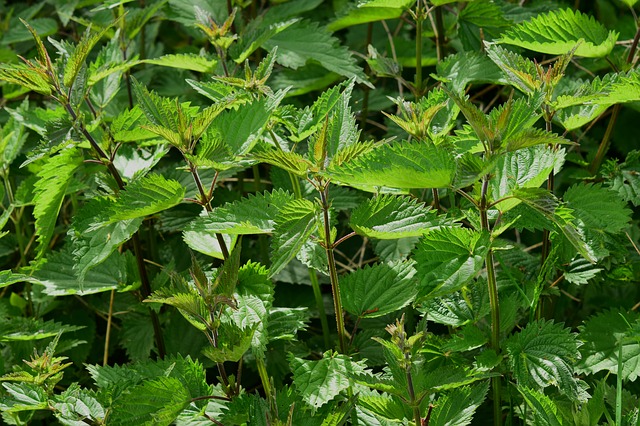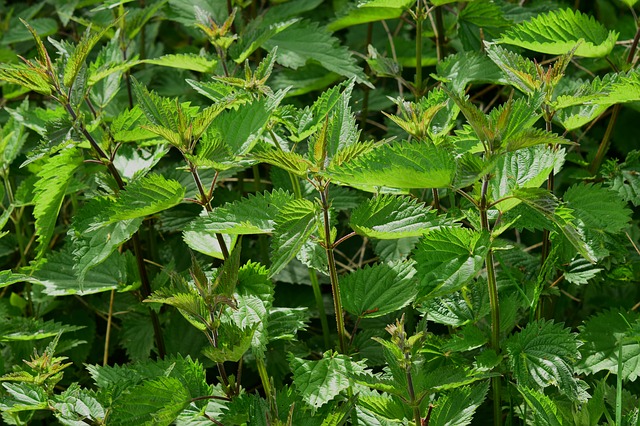 Benefits: When prepared properly, nettles can be a rich source of antioxidants, and as such are commonly used to reverse the effects of a heavily polluted atmosphere. It's also thought to have powerful anti-aging properties. It's also thought to inhibit the hormone that causes hair loss, and as such is often used to rinse and stimulate the scalp.
Beech Nuts
Where: Beech nuts like dry conditions, and acidic soil. They can be tricky to find, but woodland is a good place to start.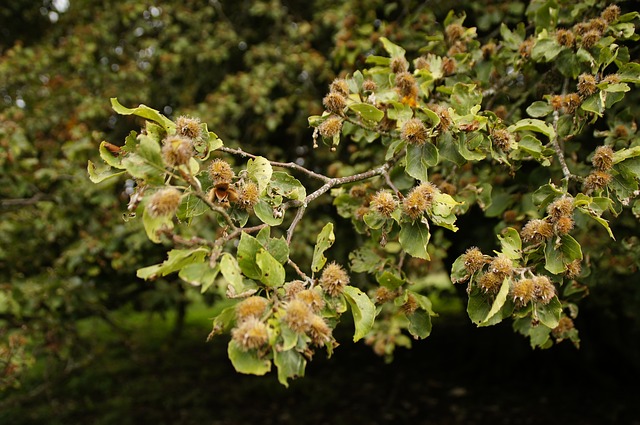 Benefits: As well as being known to be a powerful antiseptic agent, beech nuts are actually thought to promote healthy, strong hair growth over time. Oil distilled from beech nuts is commonly thought to help strengthen the follicle cells, helping to stall or slow down the effects of hair loss and baldness. Remember: Parts of the beech tree are known to be toxic, so don't attempt to forage without the guidance and / or supervision of an expert.
Rowan Berries
Where: These berries grow in high altitude locations, particularly in the highlands of Scotland.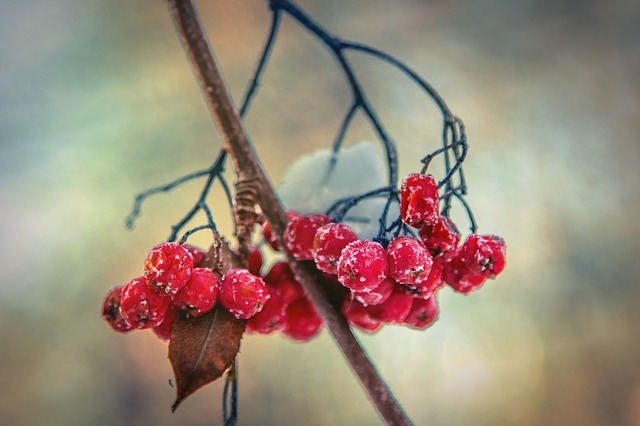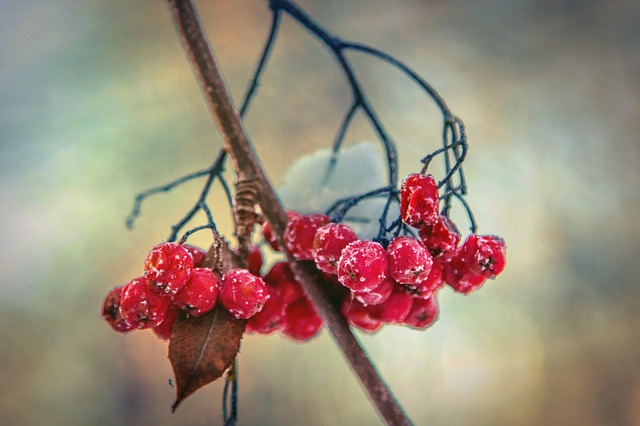 Benefits: Packed with a high vitamin C content, these delicious berries can to boost collagen production and synthesis, which helps to keep skin feeling firm, reducing the appearance of wrinkles over time. The berries can also be applied to dry or sore patches of skin to help address itchiness and irritation, and are often used to treat conditions like eczema and other inflammations of the skin.
Pine
Where: Scots pine is the only truly native pine in the UK. It thrives in heathland and is widely planted for timber. It's also found in the Caledonian Forest in the Scottish Highlands.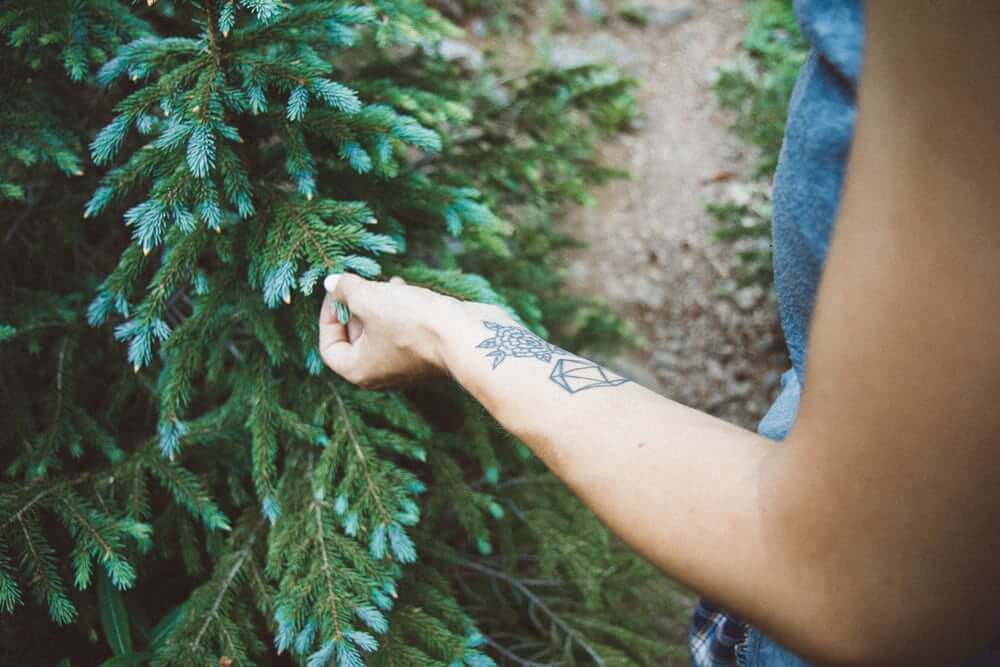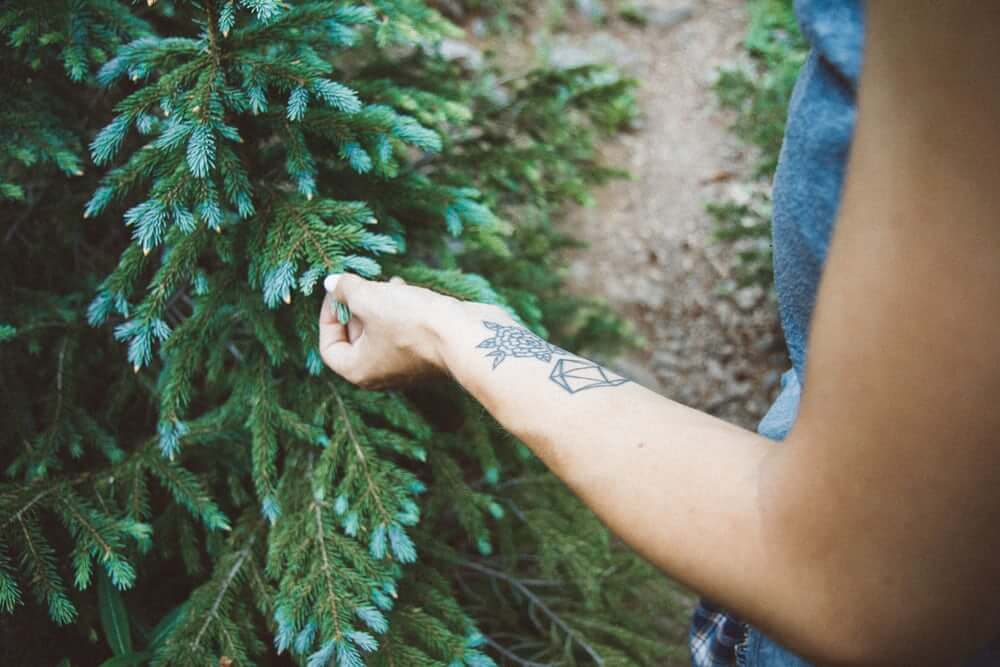 Benefits: Nut -based products can help combat the effects of free radicals – which are caused by higher pollution levels – meaning they're found in a lot of anti-aging products. Naturally fragrant, pine nuts are also incorporated into perfumes and shower gels, not to mention your car air freshener.
Recipe: Rosehip Bath Salts
This luxurious bath salt is infused with local rose hips which you can find throughout autumn and winter. Rose Hips are rich in the essential fatty acids which will nourish and rehydrate dry winter skin and help fight signs of ageing. So, pour a hot bath, sprinkle in your salts, sit back and relax.
Ingredients:
10-15 Rose hips
Himalayan Bath salts
Almond oil
4 Rose petals
4 drops of lavender
Part one:
1. Chop any stalks and leaves from the rosehips and wash with cold water in a strainer.
2. Fill a jar (jam size is perfect) with ⅓ Rose hips and top up with almond oil
3. Leave to infuse for a minimum of 4 hours (The longer the better)
4. Next, strain the Rose hip oil from the jar into another jar so that you now have a beautiful rose hip infused almond oil.
Part two:
1. In a mixing bowl, add the Himalayan bath salts
2. Mix in one tea spoon of your rosehip oil and lavender essential oil (You can add more if you like a stronger smell)
3. Next, take the rose petals and grind them up in a pestle and mortar and add them to the mix.
4. Mix everything up and spoon into a jar, ready to sprinkle into your next bath!